Darrell '58 and Joan Saunders Kennedy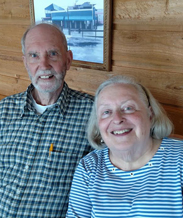 Darrell '58 and Joan Saunders Kennedy
For Darrell '58 and Joan Kennedy, charitable gift annuities are a way to provide for Allegheny while receiving attractive financial benefits. "An annuity," explains Darrell, "is a simple and straightforward way to support Allegheny's future."
The Kennedys, who have established multiple gift annuities with Allegheny that support the College's music department, appreciate the current tax deductions and guaranteed lifetime income that annuities provide. Equally important to them, however, are the benefits Allegheny obtains as a result of these gifts. Darrell received financial aid and employment opportunities while attending the College, and both he and Joan understand how vital these offerings are to the continued success of Allegheny. They also recognize the importance of a strong faculty, as Darrell credits his professors with helping him "define his goals" and "looking after him" during his mother's illness and death.
Darrell's time as a member of Allegheny's soccer and inaugural cross-county program instilled a "team player" mentality that extends to his and Joan's continued generosity towards the College. They are happy to support incoming students and Allegheny's present programs through their gift annuities and encourage others to do the same. More so, he says, this type of planned gift gives him and Joan "peace of mind" that Allegheny will be able to use their funds to sustain its success for years to come.
Back
© Pentera, Inc. Planned giving content. All rights reserved.