Nancy Ayres Frederick '52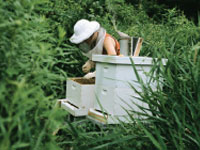 Bequest Funds Darkroom Renovation
In the Allegheny art program, students become media savvy as they work with digital photography alongside traditional and alternative processes in a wet darkroom. With support from a generous bequest from Nancy Ayres Frederick '52, the Art Department renovated the darkroom, expanding its size to create a comfortable learning environment that helps art majors and nonmajors alike develop into sophisticated image users. The improvements also addressed toxicity and accessibility issues in the workspace. Assistant Professor of Art and Gallery Director Darren Miller is delighted with the possibilities of the enhanced space.
"We now have a classroom that lets us work with students as a dynamic group," he explained. "It's not just more functional, but also enables us to learn—and blend—traditional and contemporary methods. This signals to students that we are engaged in the most up-to-date, creative artistic practice."
—Reprinted from The Allegheny Planner, November 2011
Back
© Pentera, Inc. Planned giving content. All rights reserved.