Michael and Barbara Marvin Mize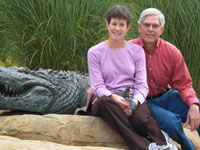 Michael and Barbara Marvin Mize graduated from Allegheny College in 1971. They raised a family and went on to successful professional careers while living in Oklahoma City where they moved shortly after graduation.
As part of their 40th reunion celebration in 2011, Barb and Mike decided to support the future of the College through a charitable gift annuity, thereby becoming members of the William Bentley Legacy Society. The Mizes transferred ownership of shares of stock in a blue-chip company to the College. In return, they will receive guaranteed income for life and the "warm glow" and tax advantages of making a charitable donation.
"A charitable gift annuity was the perfect way for us to give a substantial gift to Allegheny, which means so much to both of us," says Barbara. "The added bonus is the assurance of a source of income during our retirement years. We are able to help support the future of the College and its students, and, in a small way, show our appreciation for what we received during our own years on campus.
"We both love Allegheny and have wonderful memories of our days on campus. We have gained not only an extraordinary education but lifelong friends as well," she says. "We support the College so others can have the same experience."
While donors can target their gifts to specific programs at Allegheny, the Mizes chose not to do so. "We trust the College will use it where it is needed most," says Barbara. The Mizes also have been longtime contributors to the College's Annual Fund, which helps defray Allegheny's day-to-day expenses.
Recalling their days as undergraduates – Barbara earned her degree in French, Mike in English -- Barbara says: "The educational experience at Allegheny, with its emphasis on critical thinking and effective communication in the liberal arts tradition, was invaluable to our careers which have changed several times since graduation. Beyond that, the enduring friendships with people who shared the Allegheny experience have immeasurably enriched both of us."
Back
© Pentera, Inc. Planned giving content. All rights reserved.