Transforming Lives with Gifts of Life Insurance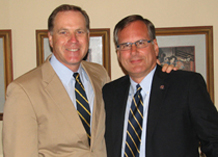 President Jim Mullen and John Sutphen

Alumnus John Sutphen '78, P '09, and Professor Emeritus Glen Wurst believe in the power of education to transform lives — those of students and the people they interact with in their communities and careers. Each man wanted to ensure that promising young scholars would have the opportunity to study at Allegheny. They chose to make this happen by making gifts of insurance policies to the College.

For Sutphen, a life insurance policy permitted him and his wife, Jamie Sansone Sutphen '79, to endow a scholarship now from the cash value while leaving the opportunity to endow other worthy causes from the death benefit in the future. His employer, O'Brien & Gere, purchased the life insurance policy in 1987 as a means of deferred compensation for him, and the company paid the premiums on the policy for 24 years. "For this reason, the cash value in the policy was significant, and the death benefit in the policy substantial," says Sutphen, who is a member of the College's Board of Trustees. The Sutphens will continue to pay the annual premiums and receive income tax deductions for them.

"This unique combination of cash value and death benefit made this policy an attractive asset to give," says Sutphen. "We were able to endow a scholarship for students from the Central New York area, while the death benefit will provide the College with a substantial addition to its endowment in the future. Perhaps best of all, because the policy continues to grow in value during my lifetime, everyone will be motivated to keep me alive as long as possible!"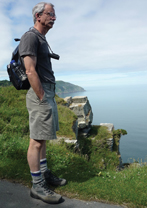 Professor Emeritus Glen Wurst


Wurst, a long-time biology professor at the College who had previously established a scholarship to provide assistance to international students who would otherwise be unable to attend Allegheny, was prompted to make a gift of life insurance by his financial advisor, Stuart Armstrong II '81. "I had an annuity that was coming due for distribution," he said, "and we decided that I didn't need the money for myself. So we decided that I could give Allegheny a tax-deductible donation from this annuity every year for the rest of my life, and they in turn would use that money to pay the annual premiums on the life insurance policy of which they are the sole beneficiary.

"In addition," says Wurst, "the amount of money the College will receive upon my death will be substantially more than the amount it would receive if I simply made an annual contribution."

Both men see their investments in the College through life insurance as helping Allegheny maintain its high quality educational experience. "As Allegheny approaches its 200th anniversary, I feel a profound duty to all of the Alleghenians who have come before me," says Sutphen. "I believe it is my duty to contribute to this amazing College of ours so as to preserve its treasures for generations to come."
Back
© Pentera, Inc. Planned giving content. All rights reserved.