A Legacy of Family Philanthropy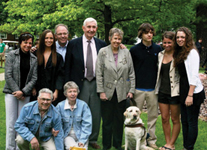 Steve and Sylvia Mountsier gather with their family at the graduation of Ryann Wahl in 2010.
When it comes to attending and supporting Allegheny, the Mountsiers make it a family tradition. There haven't been many days since the College's founding in 1815 when there hasn't been a member of the extended Mountsier family on campus. The most recent graduates are sisters Ryann '10 and Erin '12 Wahl.
Steve Mountsier '52 and his brother Silas '52 have served the College as donors, fundraisers, and reunion volunteers. Steve's wife, Sylvia Thomas Mountsier '51, is the daughter of professor and former trustee Robert W. Thomas, Class of 1912. They report that their parents taught them to give back. "When I first graduated from Allegheny, I remember my dad … always said, 'Now every year when they ask for money, you give them money because you got a wonderful education and you want to see that that continues,'" said Steve. He added, "I want to make sure that Allegheny College is able to provide that for future generations, not only for my family but for everyone's family."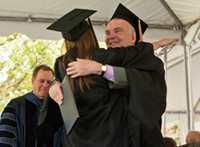 Silas Mountsier presents his niece Erin Wahl with her diploma at the 2012 Commencement.
Silas, a trustee emeritus, is responsible, through his own generosity and by directing foundation support to Allegheny, for Senior Circle and its glass sculpture, the red brick walkways that tie the historic and modern campus together, and most of the spring daffodils. Silas states, "I believe that, in my own Allegheny experience, the beauty of campus is part of what made me the person I am. If I can give a little gift, that's the gift I would like to give to others."
—Reprinted from The Allegheny Planner, October 2012.
Back
© Pentera, Inc. Planned giving content. All rights reserved.