Herb Niles '59:
Using Life Insurance as a Charitable Gift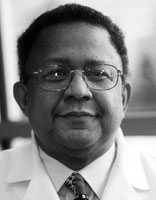 An important but frequently overlooked role of life insurance is the one it can play in charitable gift planning. Life insurance can provide a direct funding medium for a gift, permitting the donor to make a substantial gift (the face value of a policy) for a relatively modest annual outlay (the premium payment).

Trustee Dr. Herb Niles '59 chose to support Allegheny by naming it the beneficiary of a life insurance policy. "Allegheny enabled me to attain my goal of admission to medical school," said Herb. "I was enabled by my pre-med classmates and my professors, Dr. State, Dr. Pyle, Dr. Kern, Dr. Crispin, and Dr. Benjamin."

When his father lost his business during his sophomore year, the administration assisted Herb with loans and scholarships, he explained. He waited tables at his fraternity, Alpha Chi Rho, delivered mail to the dorm and was a resident advisor and a lab assistant in biology so he could pay his way through college. These experiences prompted him to give back to Allegheny, and he's been happy to make a difference for Allegheny students, particularly for students of color, through previous gifts. He is proud that one of his scholarship recipients received a Fulbright fellowship.

He also gives back to Allegheny through the life insurance policy. "With this bequest," he said, "I hope to pass on a legacy from Allegheny that I have received for my career and family to future generations. My four years at Allegheny were the best four years of my life."

His gift qualifies him for membership in the William Bentley Legacy Society.

—Reprinted from The Allegheny Planner, May 2010.
Back
© Pentera, Inc. Planned giving content. All rights reserved.